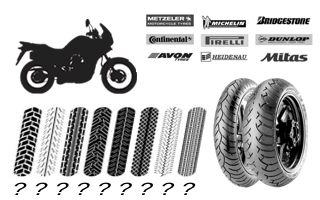 Finde the recomended motorcycle tyres for your bike !!

The information provided in this page is for your information only. You fully discharge myNETmoto from any liability whatsoever in relation to, or as a consequence of, claims by yourselves and/or any third party for possible damages subsequent to the fitting of tyres not allowed.
BRIDGESTONE BT 45


This all-round sports bias tyre is for imported and re-imported bikes and offers the same basic performance as the BT-45. Ideal for the rider who seeks overall high-speed performance.
(incl. VAT exkl. Shipping)
PIRELLI SPORT DEMON


New conventional sporty tyre for medium powered sport-touring bikes Lighter and precise handling and stable behavior in all riding conditions given by the multiple radius rear tyre contour Optimized mechanical dry and wet grip without compromisin [...]
(incl. VAT exkl. Shipping)