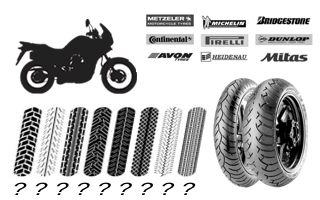 Finde the recomended motorcycle tyres for your bike !!

The information provided in this page is for your information only. You fully discharge myNETmoto from any liability whatsoever in relation to, or as a consequence of, claims by yourselves and/or any third party for possible damages subsequent to the fitting of tyres not allowed.
DUNLOP ROADSMART II


Dunlop's new RoadSmart II provides a new benchmark of balanced all-round excellence for demanding riders. A premium sport touring tyre, combining the all-round attributes required, together with improved mileage. Providing the freedom for adve [...]
(incl. VAT exkl. Shipping)
BRIDGESTONE BT 45


This all-round sports bias tyre is for imported and re-imported bikes and offers the same basic performance as the BT-45. Ideal for the rider who seeks overall high-speed performance.
BRIDGESTONE TRAIL WING


Trail Wing TW301 and TW302 are on-off type tires with primal emphasis on on-road performance, making the tires ideal for the customers who ride off-road motorcycles mainly in metropolitan (city) area.. Considerable attention has been paid to the bala [...]
(incl. VAT exkl. Shipping)