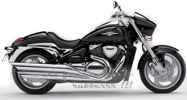 Finde the recomended motorcycle tyres for your bike !!

The information provided in this page is for your information only. You fully discharge myNETmoto from any liability whatsoever in relation to, or as a consequence of, claims by yourselves and/or any third party for possible damages subsequent to the fitting of tyres not allowed.
BRIDGESTONE E-MAX


Select only the good factors from "EXEDRA" and mix them in the best balance to provide 4 major performances, such as "Milage", "Stability of straight riding", "Handling", "Dry & Wet Grip&rdq [...]
(incl. VAT exkl. Shipping)
AVON STORM


Storm 3D X-M - High performance plus extended mileage High performance plus extended mileage. The X-M version will deliver 15%-20% extra mileage compared to the current Storm range. Interlocking three dimensional points hidden in the sipes to improve [...]
BRIDGESTONE G 852 "G"


A newly developed Bridgestone motorcycle tires for heavy and powerful Tours - motorcycles. These new tires EXEDRA meet the high expectations of real Tour rider. The modern rubber compounds provide the liability and a very high mileage. To guara [...]
(incl. VAT exkl. Shipping)